In my blogstalking, I have come across so many of you who, like me, have adorable hounds that you love to show off! And what better way to brighten a dreary Monday than man's (and woman's!) best friend???

So all you dog lovers out there, on Monday I want to see your mutts and your purebreds, your tiny Chihuahuas and your huge Great Danes, your brand spankin' new puppies and your lazy, graying flea bags! Post videos or pictures - as many or as few as you would like!
_________________________________________________________
Today's Mutt Monday is brought to you from the truck. We spent all weekend at the lake, and my kids were exhausted. As soon as we hit the main road to head home, both of them were trying to pass out.
Riley still has some kick in him when he first settles in.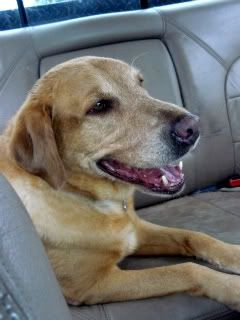 Gidget needs some beauty sleep...and a bath. Look at all the dirt!
Gidget gets right on that bath. Riley craves sleep and wants mom to stop snapping pictures.
Ahh, finally getting to fall asleep.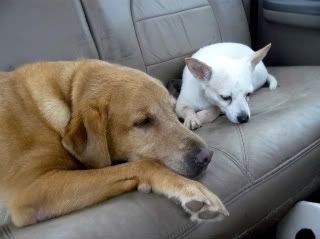 I'm feeling ambitious, so I've gone ahead and added a Mr. Linky. Join me for Mutt Monday!